The Implicit Maze — a mysterious and ancient labyrinth built into the structure of Ravnica itself,  each of the guilds of Ravnica clamoring to unravel its secrets and solve its puzzles. And the key to the greatest mystery of Ravnica lies within the unassuming Guildgates, which together hide the secret to solving the Implicit Maze, and discovering its end.
Today, let's talk about Guildgates.
We saw a few cards throughout the Return to Ravnica block that cared about the Gates. Some, like Armory Guard or Way of the Thief, simply wanted you to control a single Gate – others had effects that interacted with your Gates positively, such as Greenside Watcher or Gatecreeper Vine – and effects like Gateway Shade or Crackling Perimeter scaled alongside your Gates.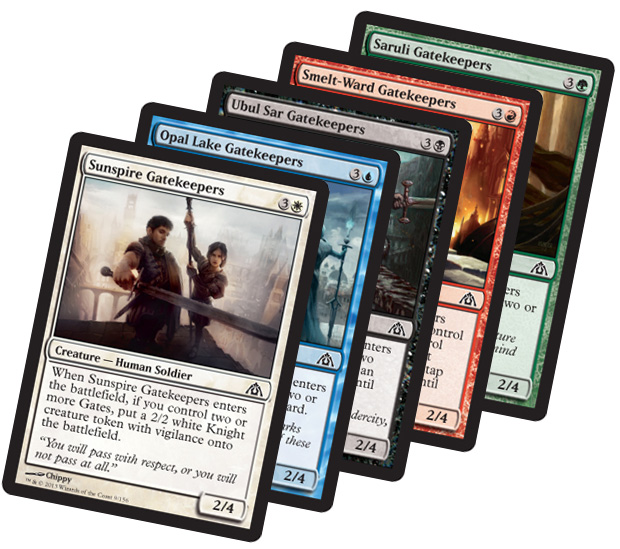 And there was the Gatekeeper cycle – each of which had a powerful spell trigger as they entered the battlefield, but only if you controlled two or more Gates for them to… keep properly, I guess? Apparently they get paid with free spells.
I absolutely loved the Gate angle in Return to Ravnica. It began as a simple subtheme, but with Dragon's Maze, it evolved into something more – an entire angle to draft around! It's not exactly the most powerful of strategies, but it sure is one of the more fun.
As I thought about all the different riffs on Guildgates, I also thought about their major problem: Guildgates are very slow in large quantities. These existing cards get better with Gates, but this does not mitigate their crippling lack of speed. So I wondered – what if there were cards that got cheaper with Gates, rather than stronger?
And that's exactly what I have for you today!